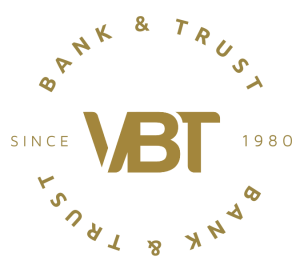 VBT BANK & TRUST, LTD. began business operations in April 1980 as VENECREDIT INTERNATIONAL BANKING, LTD. In 2006, our parent company VBT HOLDINGS, LTD. is listed on the Cayman Islands Stock Exchange.
Today, alongside VENECREDIT SECURITIES INC., a broker-dealer and investment consultant registered and supervised under the laws of the United States of America, we meet the requirements of our private clients. 
Ever since our foundation, we maintain our principles of attention objectively and transparently, while always aiming to maximize the interests of our clients. We do so with our managers, who are committed to the same administration since our beginnings. Our team, the backbone of our institution, was formed and motivated to continue with the philosophy of VBT BANK & TRUST, LTD., to build their careers and accompany our clients.
At VBT BANK & TRUST, LTD., we want to hear about you and your needs, in order to come up with financial solutions in an ever-changing and competitive international market scenario. For more than 40 years we've adapted and created products that meet your interests. We've had the honor to do so, both directly and in association with the most experienced and innovative bankers and investment consultants in the United States of America and Europe. 
Our international advisers are available to hear your needs and help you meet them.
Your assets in the best hands
In VBT Bank & Trust, Ltd. We offer trustworthy solutions for the protection of your wealth, enterprise and other family assets.